These copycats also have touchscreens, built-in music players, a high-speed 3G network and, unfortunately, power-hungry batteries. Can they dent iPhonemania?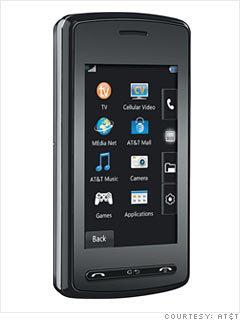 Price:
$200 (with 2-year contract and mail-in rebate)
The Vu looks and acts a lot like the iPhone: It's got a touchscreen, music player, 2-megapixel camera and runs on the same high-speed AT&T network. One big difference: the Vu offers AT&T's new live mobile TV service, which streams shows from ESPN, Comedy Central and more for $15 to $30 a month. At three inches, the Vu's screen is smaller than the iPhone's 3.5-inch display, which could make watching shows - and typing e-mails - cumbersome.
NEXT: XPERIA X1 (Sony Ericsson)
Last updated July 18 2008: 12:12 PM ET
Email
|
Print
|

Digg this story
|
RSS