Our picks from Fortune's 100 Fastest-Growing Companies held their own during last-week's market turmoil, but are still trading well off of their recent highs - so it's a good bet that they'll climb higher.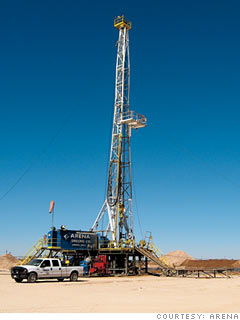 Stock price (as of 9/3/2008): $40
3 year avg. annual return: 107%
At a time when many oil companies are risking fortunes on oil that's geologically tricky or geopolitically risky to reach, Arena Resources, founded by a couple of veteran oilmen in 2000, is truly a throwback.
Arena operates not in Nigeria or Russia or deepwater Gulf of Mexico, but in good ol' West Texas, where it has had surprising success pumping oil on lands that the major oil companies thought were emptied years ago-and where its production costs are less than $10 a barrel. Indeed, Arena has yet to have a dry hole in its primary West Texas oilfield, known as Fuhrman-Mascho. "The big-elephant oilfields may have come and gone, but there's still a lot of oil there that's yet to be produced," says chairman Rochford, who believes that 25% of the recoverable reserves is still in the ground.
The case for buying Arena stock is straightforward. The stock trades at a modest 18 times estimated 2008 earnings despite profit growth that analysts forecast at 132% this year and 19% in 2009. By comparison, Range Resources, an Arena rival with a similar business model, trades at 20 times earnings despite an inferior profit growth outlook - 33% this year and 9% next. According to Capital One Southcoast oil analyst Richard Tullis, Arena "is on track to achieve 50% production growth this year, and we project 60% in 2009." Tullis has a $68 target price for Arena - -which would be a 70% gain - and his model conservatively assumes an average long-term oil price of $90 a barrel.
The other by-the-numbers argument for Arena involves proved reserves (industry jargon for known oil reserves that can be pumped with existing technology). The stock market is giving Arena little credit for the almost certain increase in its proved reserves in years to come. Arena has booked reserves on only the third of its Fuhrman-Mascho acreage where it has drilled. Given that every well it's drilled there has produced oil, Rochford believes that only 30% of Arena's actual oil and gas reserves has been booked as proved--a view shared by analyst Tullis. Says Rochford, "The best is yet to come."
NEXT: Helix Energy Solutions
Last updated September 22 2008: 9:19 AM ET
Email
|
Print
|

Digg this story
|
RSS