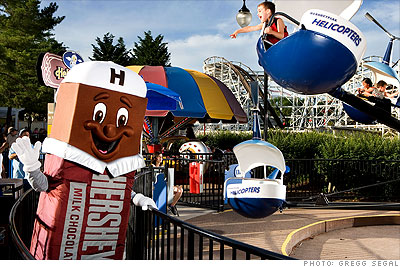 Hersheypark in Pennsylvania
Amusement parks across the nation have cobbled together discounts and deals to get consumers on roller coasters and merry-go-rounds.
Disneyland has offered up a three-day, $99 pass for Southern California residents (one-day passes usually cost $69).
At Hersheypark in Pennsylvania, customers on a budget can buy flex tickets for two or three days of admission any time this summer or Sunset tickets, a way to enjoy the park for the last three or four hours of the day at half-price. Hersheypark's parent company has enjoyed robust candy revenues as well, echoing the sweet sales seen during the Great Depression.
NEXT: Miniature golf