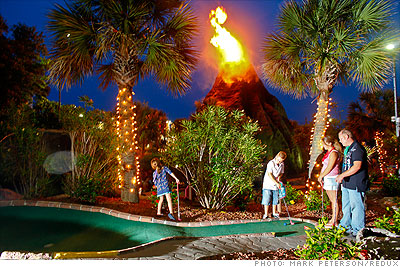 Hawaiian Rumble mini-golf course in Myrtle Beach, S.C.
Putt-putt has always been a quintessential summer activity, but course operators are seeing an upswing on their greens.
In Myrtle Beach, S.C., where more than 50 courses flank a 30-mile stretch of U.S. 17, families are lining up to play."Business has been up, because it's an affordable thing for families to do compared to other things," says Bob Detwiler, owner of Hawaiian Rumble, a mini-golf course that's also home to the U.S. ProMiniGolf Association's Masters tournament.
A typical summer brings between 500 to 600 people a day to Hawaiian Rumble, where an erupting volcano goes off every 20 minutes to the delight of kids. Total cost for a family of four to play: $30 plus tax.
NEXT: National parks