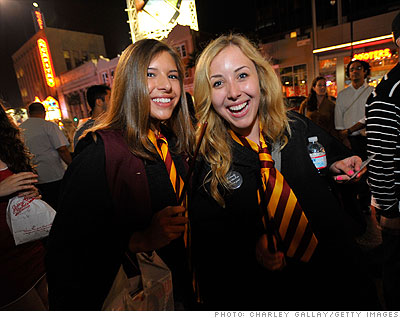 Moviegoers, during the opening night of Harry Potter and the Half-Blood Prince
The maxim that Hollywood thrives in hard times is being proven once again. Some of this summer's biggest hits already include
The Hangover,
which sold an estimated $43.3 million in tickets its first weekend, and
Harry Potter and the Half-Blood Prince,
which took in $79.5 million opening weekend.
There are also cheaper alternatives to new releases: AMC theaters offers $1 kids' movies and $3 KidsPack concessions on Wednesdays at 10 a.m. (through Aug. 5) and Regal Cinemas shows G- and PG-rated films such as
Kung Fu Panda
for free on Tuesdays and Wednesdays at 10 a.m. (through mid-August). There's nothing like a two-hour reprieve from the heat in an air-conditioned theater.
NEXT: State fairs