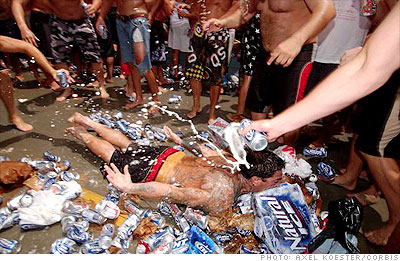 At Hermosa Beach, Calif., revelers celebrate the Fourth of July by surfing through beer.
When all else fails, grab a cold one and knock it back, even when you're on a budget. Sales of what the brewing industry calls "popular-priced beer," including Milwaukee's Best, Natural Light, and Pabst Blue Ribbon, have helped brewing companies weather the downturn.
According to one study, thriftier brands were up 2.6% in volume and 8% by dollar value earlier this year. And as Nielsen puts it, the beverage industry is "recession resilient." With 12-packs of Natty Light costing sometimes as little as $5, who can resist?
More galleries