Business is thriving for those who offer good, cheap fun, from theme parks to mini-golf courses.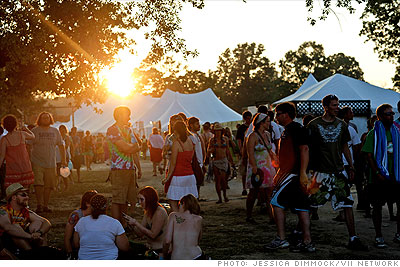 Bonnaroo music festival in Tennessee
Despite a lagging economy, thousands of folks flocked to music festivals like South By Southwest, Coachella, and Bonnaroo this year.
Many organizers wooed fans who were watching their cash by offering ticket layaway plans. At Bonnaroo in June, 10% of the $235 tickets were sold through the layaway plan. The festival drew 75,000 people to a 700-acre farm in the middle of Tennessee's rolling hills, where they saw acts ranging from legends like Bruce Springsteen to indie favorites like Bon Iver to hot new bands like Grace Potter and the Nocturnals.
NEXT: Theme parks