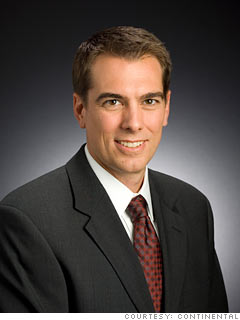 CFO & EVP
Continental Airlines (CAL) Age:
38
2008 Total compensation*:
$2.13 million
Rowe's career has long been lofty: Before joining Continental in 1993, he taught economics at an aeronautical university. In May 2008, Rowe replaced CFO Jeff Misner when he retired.
To combat the recession, he's focused on controlling business costs and initiating revenue-generating measures -- blame him and other execs for that hike in baggage fees at check-in -- which Continental hopes will help bring in around $100 million annually.
Source: Equilar Inc.
NEXT: Brent K. Whittington
Last updated February 24 2010: 12:57 PM ET
Note: *Total compensation includes actual salary received, discretionary and performance-based bonus payouts, the grant-date fair value of new stock and option awards and other compensation. If relevant, other compensation includes severance payments.
Equilar Inc., an executive compensation research firm
in Redwood Shores, Calif., chart by looking at Fortune 1000 companies with fiscal year ends ranging from July 2008 to June 2009 that filed proxies by October 5, 2009.
Note: To be eligible for the 20 highest paid list, candidates had to be 39 or younger on Nov. 1, 2009.