Detroit residents often are asked why they stay. 13 locals answer that question - and reveal their favorite treasures of the Motor City.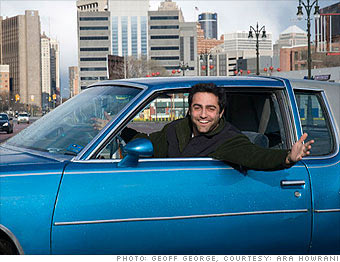 Ara Howrani, owner of Howrani Studios, likes to cruise Michigan Avenue in his "old-school" Cutlass Supreme.
Lived in Detroit: Almost my whole life
Favorite spot: Michigan Avenue

I love to drive around in my old-school hot rod, a Cutlass Supreme, and blast Jay Dee, a local hip-hop producer. His music really represents Detroit, and I feel like I'm in a music video because I'm literally seeing what he's saying - especially on Michigan Avenue.

Michigan Avenue is one of the five major avenues that shoot out of the harbor, and it's my favorite because it's sprinkled with gems along the way: Campus Martius Park, Tiger Stadium, churches, cool underground galleries, clubs and more.

My favorite spot on the avenue is Lafayette Coney Island, a real greasy spoon with four items on the menu. It's a place for everyone who knows and loves Detroit: sports stars, citygoers, firemen, the mayor.

Why I love Detroit: Personally, I love the creative potential as an entrepreneur. It's not oversaturated like New York or L.A. We have a lot more freedom here.

The city is raw and industrial, and that's made me who I am. I feed off it. I'm a free, open-minded person who's open to diversity and realness and rawness. Detroit made me this way.
NEXT: Frankie Darcell