With the launch of Motorola's Cliq, the battle between mobile operating systems reaches new heights - and there may soon be a new leader. We survey the top players.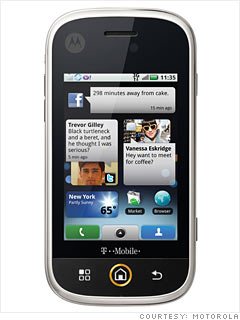 Motorola's Cliq, which has the Android operating system.
The smartphone market is exploding: 155 million smartphones were sold in 2008, and that number is expected to double in four years. But as the market grows, it's becoming more evident that the key factor isn't the phone itself, but the mobile operating system running the show inside.
And that's what Motorola's banking on with the release of its new smartphone, the Cliq, which runs on the most ambitious OS out there, Google's Android.
Android's open-source capability has the industry on edge, with some companies beginning to open up their systems to developers in response to Android's launch. Android has even given traction to other open-source systems, such as Linux-based Moblin.
Still, Android has a long way to go, especially as it's only on a few phone models. But with such companies as Motorola, LG, and Samsung already supporting the open-source cause -- and Google's plans for 18 Android-powered phones to hit stores worldwide by the end of the year -- Android's likely to keep shaking things up.
And Google's calling on developers to help it improve the latest Android version -- the "Donut" -- with the hope that in the next few years, it'll take the cake.
NEXT: The incumbent: Symbian