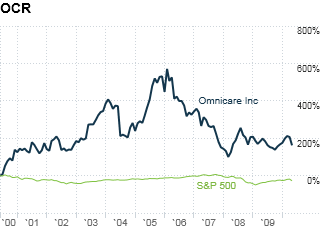 Ticker: OCR

Brad Evans
Heartland Value Plus fund
Small-cap manager Brad Evans compares his style to "private equity investing in the public markets." That means he seeks battered, less-known stocks that he thinks will revive over time. The strategy works: Evans's $1 billion Heartland Value Plus Fund has returned 11.3% annually over the past decade, crushing the S&P 500's 0.5% loss.
One of his favorite names right now is Omnicare, which distributes drugs to nursing homes and assistedliving facilities. "It's Walgreens for institutional customers," he says. Omnicare has suffered from debt problems and expensive acquisitions, and is now trading at 10 times trailing earnings.
Evans thinks that's a bargain, given its hefty cash flow and growing customer base. As he points out, "The senior population in the U.S. will grow from 39 million in 2009 to 52 million in 2014."
--M.K.

NEXT: Hewlett-Packard

Last updated June 18 2010: 12:58 PM ET