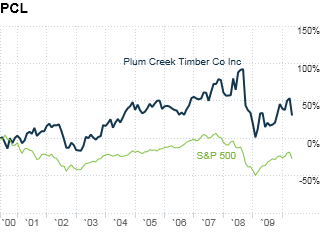 Ticker: PCL

Jeremy Grantham
GMO
Jeremy Grantham, who oversees $106 billion of institutional money at GMO, is known for his prescient stock calls. For example, at the height of the '90s bull market he warned of a bad decade ahead for U.S. stocks. Now Grantham is cautious again. He expects large-cap U.S. stocks to tread water over the next seven years.
Grantham prefers an alternative: timber. "With the possible exception of U.S. blue chips," he says, "there's really no competition for timber as a safe asset." Grantham expects wood to gain 6% annually for the next seven years. (Timber has actually outperformed the S&P 500 since 1910 and returned more than 7% a year in the past decade.)
One way to invest is through a REIT such as Plum Creek Timber, which has a dividend yield near 5% and a large, diversified forest portfolio.
--S.C.

NEXT: Diageo

Last updated June 18 2010: 12:58 PM ET