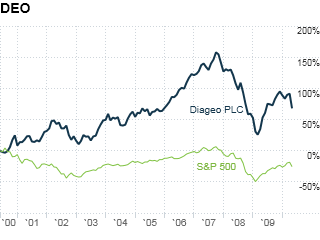 Ticker: DEO

David Herro
Oakmark International Fund
Even amid European debt crises, David Herro thinks you should buy global equities, especially undervalued blue chips. Herro has run the $5 billion Oakmark International Fund for 18 years, posting a stunning 10.5% annualized return since 1992, pulverizing the MSCI World index's 4.8% gain.
Herro favors global stocks because he expects growth in emerging markets to offset declines in developed countries. He recommends shares of Diageo, the giant London-based distiller of Smirnoff vodka, Johnnie Walker whisky, and others. Herro thinks the shares, trading at 18 times trailing earnings, are cheap based on long-term trends like the growth of premium liquor sales in both emerging markets (as incomes rise) and Western countries (as aging drinkers switch from beer):
"It's almost the perfect stock."
--S.C.

NEXT: Nektar Therapeutics

Last updated June 18 2010: 12:58 PM ET