With prices falling, now could be the time to score a sweet second home.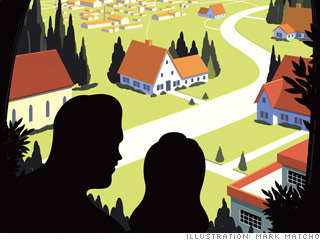 Last year Bryan and Pamela Blackman of Santa Clarita, Calif., started searching for a place to retire. The couple, both in their early fifties, still have at least five years to go before they stop working. But the bursting real estate bubble offered deals too good to pass up. In the quiet city of Palm Coast, Fla., they found a three-bedroom, 21/2-bath home on a half-acre lot for $225,000. (The previous owner had paid close to half-a-million dollars.) The price tag was so low that they decided to buy a second home nearby for the same price.
Thanks to a major correction in real estate prices -- in some markets median prices are down more than 50% -- and continued low interest rates, boomers like the Blackmans aren't waiting for their last paycheck to find the prime spot for their golden years. In light of these reduced prices, Fortune decided to go in search of five great places -- perhaps once considered too pricey -- that are now affordable. We examined data from Moody's Analytics to find attractive real estate markets that have come down significantly in price--and, according to the researchers, don't have much further to fall. We considered several other factors too, including low cost of living, culture, tax rates, and health care. While some of the locales might seem like standard retirement fare (i.e., Palm Coast), we also sought out markets that appeal to a generation that wants to do more than just play golf. To be sure, the impact of the recent financial crisis on investment portfolios may be forcing some boomers to rethink their retirement plans. But real estate prices have dropped along with 401(k) s. So while picking up two houses the way the Blackmans did might be out of the question, there's a good chance of finding at least one retirement property that's within reach.
NEXT: Napa, Calif.
Last updated May 27 2010: 7:30 AM ET
Sources: National Association of Realtors (price); U.S. Census Bureau (population); Weather.com (sunny days)