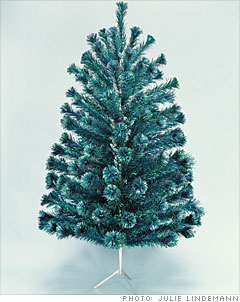 Myth:
It's better to buy an artificial Christmas tree than cut down an evergreen every year.
Reality:
Get out your ax.
Sure, fake trees might be usable year after year, but the question comes down to renewable vs. nonrenewable resources.
"When a tree is cut down, another can be grown in its place," says Steve Long of the Nature Conservancy. "And when you're done with the tree in your home, it can be turned into mulch, so the tree has a life that goes on."
Some 350 million Christmas trees are now growing on U.S. farms (about 30 million are sold each year), and as they grow, they will start to store carbon. Most artificial trees are made from nonrenewable plastics. On top of that, 92% of them, according to the U.S. Census Bureau, had to make the trip last year all the way from China.
-- E.F.
NEXT: Products: Paper vs. plastic