These days most forward-thinking corporations are trying to go green. Trouble is, when it comes to what's really environmentally sound, confusion reigns.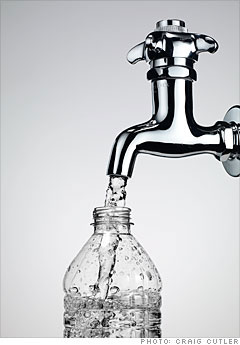 Myth:
Bottled water is safer than tap water.
Reality:
Tap water is subject to stricter government standards.
Americans gulp down 28.5 gallons of bottled water per capita each year, discarding billions of plastic containers. It's convenient, sure, but is it healthier than plain old tap water?
"There's no guarantee that bottled water is any safer than the water that comes out of your tap," says Wendy Gordon of the nonprofit Natural Resources Defense Council.
The reason: Tap water is subject to stricter standards and more rigorous testing than bottled water. The EPA requires large municipalities to test water for bacteria in an independent lab a dozen times a day.
The FDA mandates that water used for bottling be analyzed only once a week for bacteria. What's more, water that's packaged and sold in the same state -- about 70% of the bottled water sold in the U.S. -- is exempt from federal regulation because it doesn't cross state lines, leaving it with "inconsistent protection," says Peter Gleick of the Pacific Institute.
-- Dody Tsiantar
NEXT: Food: Going local for fruits and veggies