In an era of disposable technology, there are still those who hold onto outdated gear. But when it breaks, where to turn? These six make old tech whir like new.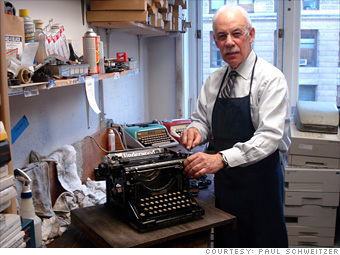 Age: 71
Company: Gramercy Office Equipment
Technology: Typewriters
Number of repairs: Up to 25 a week
Location: New York, N.Y.
For Paul Schweitzer, typewriters are a family affair. His father started the business in New York City in 1932, and Schweitzer started working with his dad when he got out of the Navy in 1959, expecting to quickly move on. But 50 years later, he's still in the business -- and training his son to follow in his footsteps.
Most of Schweitzer's typewriter business (the company also repairs laser printers) comes from offices that rely on the machines for labels and forms. "There are less and less typewriters, but far fewer places to repair," he says. In the 1960s and 1970s, there were six pages-worth of typewriter repair shops in the New York City phone book.
Now you're lucky to find Schweitzer.
NEXT: Steve Hilsz