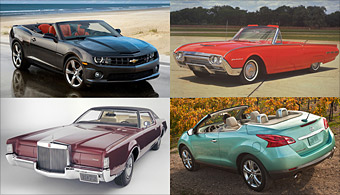 Until the introduction of the first closed-roof car by Cadillac in 1910, a convertible was about all customers had to choose from. But they quickly came to appreciate the warmth, dryness and safety provided by a metal top, and the convertible was relegated to a specialty body style like the station wagon. Even today, the mechanism used to raise and lower the top, along with body reinforcements, make them heavier, less capacious, less secure, and trickier to engineer than their fixed-roof counterparts
That should have spelled the end of the convertible, except for one thing: The open car with its sun-baked, wind-blown passengers became a symbol of youth, freedom, and sexuality. The appeal was perfectly epitomized as long ago as 1923 in ads showing a flapper behind the wheel of an open Jordan Playboy that begin "Somewhere west of Laramie there's a bronco-busting, steer roping girl." The Jordan Playboy didn't survive the Depression, but the ragtop did.
Alert to the appeal, manufacturers have long built cars that look like convertibles or are open to the elements without the inconvenience of actually being a fabric-topped, fully-retractable, open-roof car. They include hard-top convertibles and T-tops, and cars with vinyl roofs, sunroofs, and detachable roofs. Herewith a gallery of convertible wannabees, old and new, along with some modern examples of the classic droptop.

By Alex Taylor III, senior-editor-at-large - Last updated August 04 2011: 5:25 AM ET