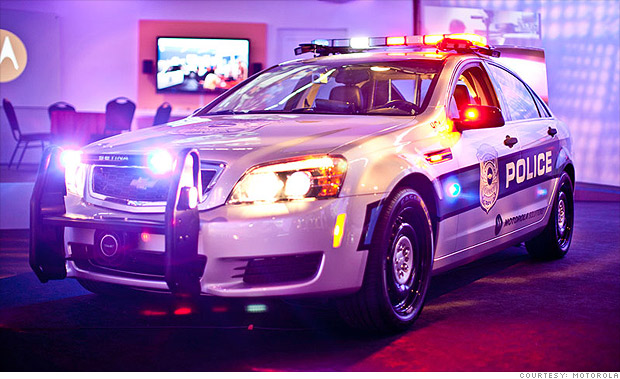 These days, even small town police officers have a lot to do besides driving the car, switching on the lights and writing tickets. With so much going on inside a typical police car, an extra pair of hands, a few extra pairs of eyes and an extra brain or two might be helpful.
That's the pitch behind Motorola Solution's latest batch of hi-tech police equipment, which they brought to CNNMoney's New York offices packed inside a Chevrolet Caprice "police car."
Modern police cars are already capable of a lot more than most civilians are probably aware -- like the ability to instantly, and continuously, scan license plates -- but Motorola wants to take things further. Basically, this technology can tie police cars together into a sort of giant cop brain that can think fast, remember everything and ask for help before the officer can reach for his radio.