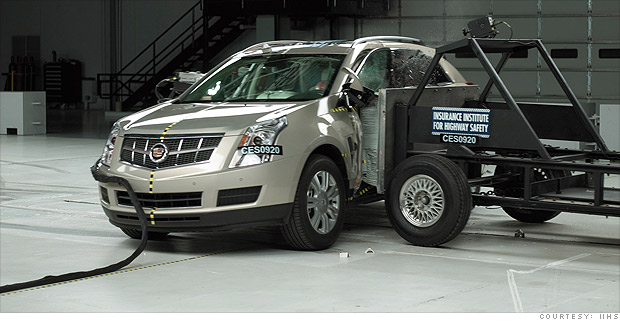 More vehicles than ever, 115 in all, have now earned the Insurance Institute for Highway Safety's Top Safety Pick Award. Every major automaker has at least one award winner with Subaru earning an award with every model in its line-up.
To earn a Top Safety Pick Award, a vehicle must earn top marks from the Institute for front and side impact protection, rollover protection and whiplash protection.
With so many cars winning the award, the Insurance Institute is now looking at making the awards even tougher, IIHS spokesman Russ Rader said. Among the changes being considered are an additional crash test or factoring in safety technology such as blind spot warning systems or crash avoidance systems.
The Insurance Institute is a private group financed by auto insurers. It performs a set of crash tests which are different from those performed by the federal government's National Highway Traffic Safety Administration. Some cars might get poorer scores in NHTSA tests despite winning the Insurance Institute's award.
The Fiat 500, for instance, is an award winner despite earning only three out of five stars in NHTSA's crash tests. (A spokesman for Fiat said the automaker is considering ways to improve its score in the government tests.)