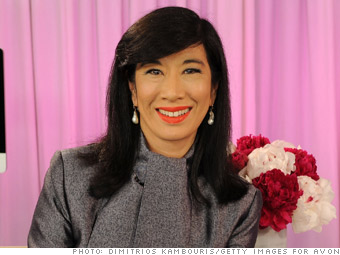 Title: Chairman and CEO
Company: Avon Products
Age: 51
Compensation: $13.2 million
For more than a decade, Andrea Jung has been at the helm of beauty products giant Avon Products. During that time she has propelled the company into the Fortune 500 and nearly doubled revenue.
The recession wasn't kind to Avon, though, and last year the stock lagged the S&P 500. Following what Jung called a "disappointing performance in 2010," the company announced plans to redouble its efforts -- building on its strong brand awareness (86% of consumers have a favorable perception of Avon, the company says) and launching Avon Care, a line of skincare products targeted at emerging markets. The company is ramping up infrastructure in Brazil and promotions in Russia -- and building on sales in South Africa, India and Central America, which all saw revenue growth over 10% last year.
Avon is launching a marketing campaign this year to commemorate the 125th anniversary of Avon's founding. It's also hoping to attract more sales representatives -- Avon brought on 4% more active reps in 2010, bringing the total to about 6.5 million and solidifying its place as the largest direct sales company in the world.
NEXT: Carol A. Bartz
Last updated May 05 2011: 3:07 PM ET