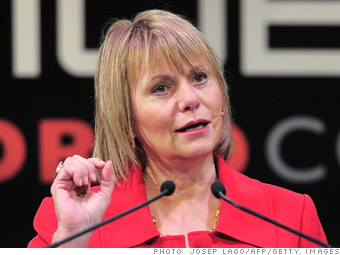 Title: CEO
Company: Yahoo
Age: 62
Compensation: $47.2 million
Carol Bartz signed up for a difficult job when she took over as CEO of fallen search giant Yahoo in 2009. Known for her occasionally expletive-peppered interviews and hard-driving management style, Bartz has been labeled as both a candid reformer and a "loose cannon." After taking the reins in the midst of the economic downturn, she has warned investors that a turnaround will take time.
Bartz says Yahoo will win out in the long-term by focusing not on computers, but mobile devices like phones and tablets for delivering its online services. Bartz has also said the company will double down on original content -- last year it acquired Associated Content and earlier this year it launched the tablet newsstand, Livestand.
Bartz's biggest challenge may be figuring out which of many possible directions Yahoo should take. The company's critics often cite this point: With display ads, a customized homepage, a search engine, and email, among other things, it's hard to pinpoint exactly where Yahoo belongs in the fast-moving technology world -- let alone where it's going.
NEXT: Beth E. Mooney
Last updated May 05 2011: 3:07 PM ET