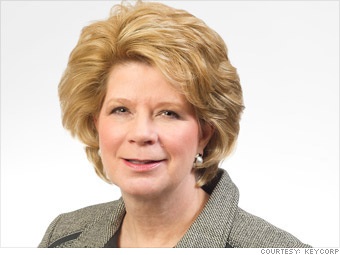 Title: Chairman and CEO
Company: KeyCorp
Age: 56
Compensation: $2.4 million*
A newcomer to this list, Beth Mooney officially became CEO of KeyCorp just days ago, on May 1. Her promotion broke the glass ceiling at the nation's largest independent financial institutions, as Mooney became the first female CEO picked to lead one of the top 20 independent banks.
Mooney served as vice chairman of community banking at KeyCorp since 2006. In that role, she was lauded for decisive action helping to mitigate the impact of the financial crisis on the bank. It still struggled, though, and took $2.5 billion from the Troubled Asset Relief Program. It has yet to pay it back.
That debt may have made the bank less appealing to investors, but the cold-shoulder may not last long. JPMorgan Chase analysts expect KeyCorp stock to climb in 2011 as the bank moves to open 40 more branches this year.
More galleries
Last updated May 05 2011: 3:07 PM ET
* In previous role as Vice Chair, Key Community Banking.