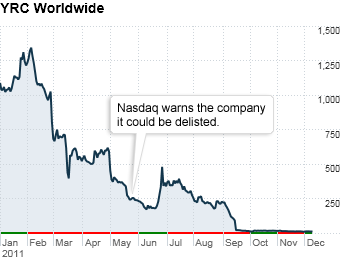 YTD stock performance: -99%
Market cap: $68 million
Fortune 500 rank: 488
YRC Worldwide made the list of worst performing stocks for a second year in a row, as the trucking company has yet to bounce back from the recession.
The stock fell below $1 in May, and traded as low as 3 cents a share later in the year. The slump prompted a warning that the company could be delisted from the Nasdaq.
To prevent that, YRC's board authorized a reverse stock split in December, which drove shares back up to $13. But the move severely diluted shareholder equity.
YRC's woes date back to 2003, when it borrowed billions of dollars to finance two expensive mergers. They bought Roadway Corp in 2003 and then USF Corp in 2006.
The company came close to bankruptcy in 2009 as shipping volumes plummeted and the credit crunch made it difficult for YRC to service its debts.
While the company has suffered a string of quarterly losses over the last two years, YRC said third-quarter sales rose 12%, even as profits continued to decline.