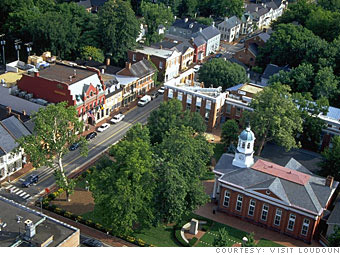 Towns include:
Leesburg
Job growth (2000-2010):
75.3%
With one of the nation's highest concentrations of high-tech firms, Loudoun County has been dubbed the "Silicon Valley of the East." Anchoring one end of the Dulles Technology Corridor, the area is home to marquee names like Verizon Business, AOL and Verisign.
The region was once little more than farmland and bedroom communities for D.C.-area professionals. Now it's home to more than 9,000 firms employing more than 130,000 people, and business continues to grow. Chalk that expansion up to a decades-long effort by local leaders to beef up infrastructure. Its proximity to the nation's capital, the Pentagon and Dulles International Airport doesn't hurt either.
You don't have to work in government or high tech to find new opportunities here. Mil-Tek, a company in the recycling industry, recently moved its headquarters to the area, and is expected to bring in 200 jobs. Moving company JK Moving Services is expanding to add 140 jobs.