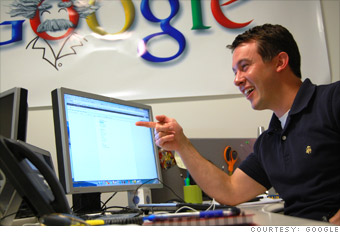 Top MBA Employers rank: 1
% of MBAs who want to work there: 25.70%
Headquarters: Mountain View, Calif.
What makes it so great?
"There were two things that really attracted me to Google: the reputation that Google had helping to transform businesses -- from large companies down to mom and pop pizzerias -- and the reputation for hiring amazing, smart people. There was an energy and excitement there that was palpable. I said I really want to be part of that. One of the things that I love about working here is a sense of camaraderie, everybody is proud of their team and the product. I spent five years in the navy as an intelligence offer and there are a lot of similarities -- the emphasis on leadership and that camaraderie. You have that strong bond that is exciting to be around."
-- Jackson Castleberry, 2009 graduate of the Darden School of Business
Getting hired:
In 2010, the year Castleberry started, Google increased its employee base by 4,500 people. Google offers a wide array of job opportunities for recent graduates, from e-commerce and advertising to developing new web technologies.