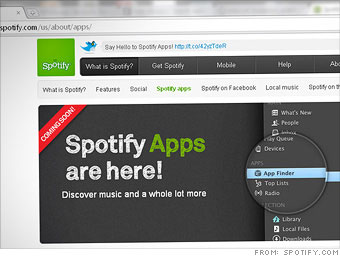 Music lovers celebrated this summer when streaming music service Spotify made its long-awaited U.S. debut.
But hugs turned into hate when the company announced in September that all new users would be required to log into the service through Facebook -- and that by default, everything you listen to would be broadcast on Facebook.
As one cranky user commented on Spotify's blog: "Oh man - i just logged on to facebook to be confronted with everything i had been listening to while i was working in the morning - total and utter bastards!!"
Faced with a fiery backlash, Spotify quickly added a "private listening" feature that temporarily halts the sharing. Users can also muck around with Spotify's settings to permanently turn it off.
But don't expect Facebook to back down on its "EVERYTHING should be shared" stance. At Facebook's F8 conference, founder Mark Zuckerberg called apps like Spotify the first step toward a major expansion of the site's activity sharing features.
What's next? In Zuck's own words: " Your runs, your bike rides, your cooking and eating, your sleeping, your happiness, your fashion -- anything you want." -- Laurie Segall