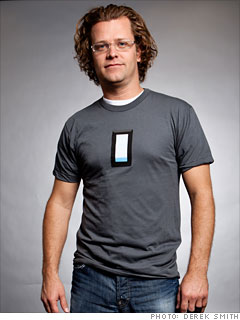 Age: 38
City: Salt Lake City, Utah
Salt Lake City's unofficial nickname is quickly becoming the "Silicon Slopes," as several California tech companies -- including Adobe, Ebay, Oracle, Twitter and Electronic Arts -- have expanded or opened facilities there.
And why wouldn't they? The city's taxes are among the lowest in America and the University of Utah leads the nation's universities in creating successful start-ups. The Brookings Institute calls the area's workforce the most productive in America.
The region is also slammed with young entrepreneurs who want to be the next Josh James.
James, 38, founded Omniture, a software company, during his days at Brigham Young University in the early 1990s. The company -- based in the suburbs of Salt Lake City -- grew to more than 2,000 employees while working for AOL, Wal-Mart, American Express and Ford.
The company was bought by Adobe in 2009 for $1.8 billion in cash. The tech guru said he wasn't excited to sell Omniture, but the offer was "something our investors were interested in, and it's difficult to make an argument that you shouldn't give them a 100% windfall in one day."
Now, after a brief stint working for Adobe, he's starting anew. James recently bought Corda, a business intelligence company, and plans to unveil a new name for the 120-employee company on July 13.
James says he wants to "change the way business intelligence works." He said CEOs often lack direct access to live information, even in an increasingly digital world.
"You're beholden to IT people getting you the information that's been massaged and cleansed and spun," James said. "Everyone has kind of resigned themselves to the fact that you have to wait for IT to send you a report. But it doesn't have to be a one-way street."
It's also a personal challenge for James, who admittedly loves building companies and starting from scratch.
"When I left Omniture, I had over 400 emails from employees saying this was the best place I've ever worked," James said. "I want to do that again."