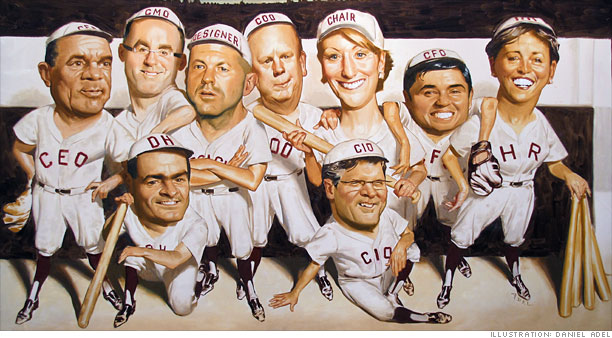 Unlike fantasy baseball, bigtime fantasy business leagues don't exist. But what if they did -- and you got the first nine draft picks? As the baseball season heats up, we couldn't resist pondering that question, and we've arrived at an answer: Ladies and gentlemen, for the 2011 season of Major League Business, we present our Dream Team.
We're reluctant to admit that a serious purpose lurks behind this exercise in summertime fun, but it does. Especially in today's economic tumult, business is getting to be the way sports have always been: Human capital is the whole game. The world's wealth comes increasingly from companies that need little physical capital but require tons of human talent, knowledge, and creativity. Making judgments about people is becoming the central managerial skill.
To choose our players, we studied the stats, interviewed the scouts (executive headhunters), and looked at MVPs, past and present. Our goal: to field a team that could coalesce and dominate in any industry. Competition was fierce, so congratulations to everybody on the roster: They're the 1927 Yankees of today's business world.
At least we think so. Truth is, you could advance a plausible case for someone else in each position. And perhaps you'd set up the team differently, swapping out the design chief, say, for a chief revenue officer. (To pick your roster, visit fortune.com.) And thank goodness. In business, as in sports, if we all agreed, what fun would it be?
--Geoff Colvin

By Geoff Colvin with Josh Dawsey and Sam Silverman - Last updated August 22 2011: 1:30 PM ET