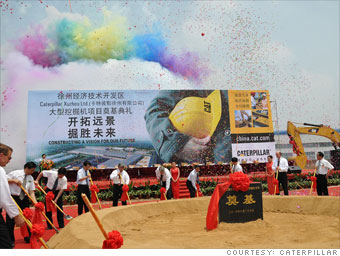 This major producer of heavy machinery is based in Peoria, Ill., but sees a lot of room to grow in China.
And why wouldn't it? The construction and mining industries are booming there.
Caterpillar announced earlier this month that it plans to build a new factory in Xuzhou. Once it's fully operational, the factory will employ about 400 people.
The company first started doing business in China in 1978 and since, has built 16 factories and various offices there, now employing about 8,500 people.
Company executives are quick to point out that Caterpillar's growth in China doesn't come at the expense of American workers. Caterpillar has been building new factories in the United States, and in the last 18 months alone, the company hired about 11,000 new workers in its home country.