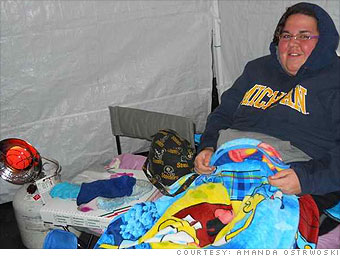 Age: 25
Location: Cincinnati, Ohio
Thanksgiving is obviously about giving thanks. But nowadays, Black Friday is a big part of Thanksgiving. They are back-to-back holidays in our household. I shop like a mad woman but the savings are worth it.
This year, my husband and I, my brother and two of my friends will split off into teams. Two of us will go to one Wal-Mart and two of us will go to a different Wal-Mart, so we definitely will get what we want.
Since we're not going for high-ticket electronics this year we can leave a little later, like at 5 p.m. on Thursday. I'm thankful these stores are
opening on Thanksgiving
, it's going to be a little bit easier to wait outside during the day instead of sleeping outside.
This year's wish list:
We just bought a house so we're looking for home appliances
Secret strategies:
Check your grocery stores! They sometimes have promotions for free gas or groceries when you buy gift cards for other retailers. Last year, I got three free fill-ups for my truck by buying Best Buy, Target and PetSmart gift cards to use on Black Friday.
Do you consider yourself an extreme Black Friday shopper? Tell us your game plan -- and best Black Friday shopping secret. Email your response to jessica.dickler@turner.com.