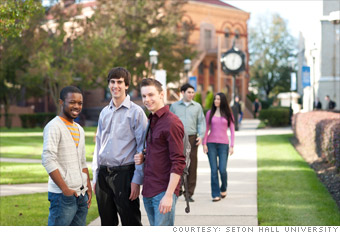 Location: South Orange, NJ
Tuition cut: 61%
Total tuition & fees: $12,154 (beginning in fall 2012)
Type of school: Private Catholic university
Number of students: 5,300
To become a bigger threat to nearby Rutgers, Seton Hall University is slashing its tuition and fees by more than 60% for students who meet certain academic qualifications.
Applicants for 2012 who are in the top 10% of their high school class and boast either an ACT score of at least 27 or an SAT score of a combined 1200 on the critical reading and math sections (with at least a 550 on each section) that apply by Dec. 15, will pay the same amount to attend Seton Hall as they would the traditionally much cheaper public school neighbor, Rutgers.
To lock in the lower price for the full four years, students must maintain a 3.0 GPA, complete at least 24 credits a year and stay enrolled full-time.
"This program rewards the efforts of high-achieving students ... [it] assures parents that their son or daughter will receive a quality private education from a prestigious university in a smaller, more nurturing environment where they can thrive and build a foundation for a successful future without an extensive loan burden," Alyssa McCloud, vice president of Enrollment Management at Seton Hall University, said in a statement.
If a student doesn't qualify for the program, they will pay roughly $33,500 in tuition and fees.
Seton Hall is located on a 58-acre campus in New Jersey and is about a 30-minute train ride from New York City. The school offers more than 60 majors, with an average class size of 20 students.