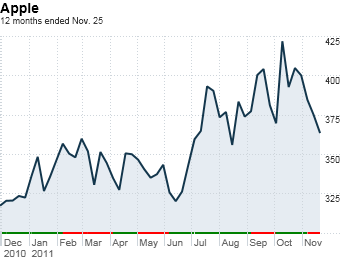 Market cap: $348.7 billion
2011 revenue: $119 billion
P/E ratio: 10.5
Dividend yield: 0.0%
Apple is the lone holdover from our 2011 list, and we're even more bullish about the stock at $376 a share today than we were last year at $315. Earnings are growing at double the rate of share-price appreciation, causing the P/E to sink from 14 to 10. Obviously, the death of founder Steve Jobs has hurt, but the skepticism about Apple's growth is confounding. "I've been doing this a long time, and honestly, I cannot figure it out," says fund manager Turner, who counts Apple as his largest holding.
Analysts expect 2012 earnings per share to rise 30%, and Apple has a history of crushing Wall Street estimates. The markets where it makes most of its money -- smartphones and tablets -- are nowhere near mature. Gartner Research projects that the tablet market will grow from 64 million units this year to 326 million by 2014. Smartphone sales are expected to increase 33% next year, according to Bernstein Research. The iPhone's potential in China seems particularly compelling, given that Apple has no contract yet with the nation's dominant carrier. In the U.S., the latest iPhone, the 4S, is a hit. Black Friday channel checks by Wedbush Securities analyst Scott Sutherland found "wall to wall" traffic at five Apple stores; customers were told to order the iPhone 4S online because the stores were out of stock. This squares with a recent announcement by HTC, the leading U.S. seller of Android phones, that "market competition" has forced it to cut its fourth-quarter sales forecast by up to 23%. Bottom line: Unless you believe Apple's P/E is headed down, the stock should gain 25% on earnings growth alone.
Apple doesn't pay a dividend, something Jobs always opposed. But with $26 billion in cash and short-term investments on its books, the company certainly has the means. Speculation that a dividend is coming has risen since Jobs' successor, Tim Cook, seemed open to the idea in an October earnings call. That would mean cash for shareholders -- and new demand for the stock, which would only propel it higher.