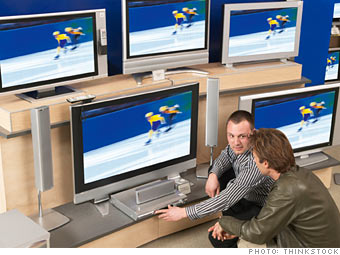 For those who missed the unbelievable Black Friday prices on televisions, you're out of luck. "The TV prices on Black Friday were as good as they've ever been," said Steve Baker, analyst at NPD Group.
Shoppers were able to nab 42-inch TVs under $200 and 50-inch sets for less than $500. And those record-lows aren't coming around again anytime soon, he said.
However, there's still hope of fetching deals nearly as good in the New Year. In January, new products are introduced at the annual Consumer Electronics Show and electronics retailers start clearing out inventory to make room for the latest models, Frietchen said.
Super Bowl sales come later in the month and you can expect even more discounts follow in March and April, when Japanese manufacturers end their fiscal year. "You will see some liquidation prices there," added Baker.