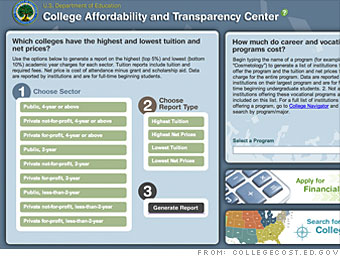 For the first time ever, the government is ranking American colleges and universities by affordability.
Using a new interactive tool launched by the Department of Education, students and parents can search public and private colleges by not only their published tuition prices, but also by their "net price" -- the average costs after tuition, room and board, book fees and financial aid are all taken into consideration.
The tool, called the College Affordability and Transparency Center, was mandated by education reforms passed by Congress in 2008, and is meant to reveal the true costs of going to college.
Each individual college self reports its data and has had several opportunities to revise their numbers if needed.
Here are the 10 most expensive schools, ranked by net price for the 2008-2009 academic year -- the most recent data available. We included only colleges in the 50 U.S. states with undergraduate enrollments of 5,000 or more.