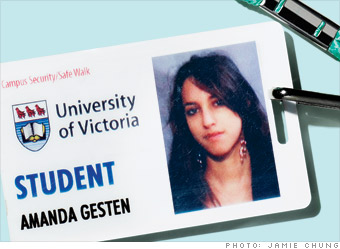 Name: Amanda Gesten
Age: 19
College: University of Victoria
Major: Business
Total college costs: $115,000
Estimated savings: $50,000
When Gesten's parents objected to the $40,000-a-year price of her first-choice college, the University of Oregon, she looked north to the University of Victoria, across Puget Sound from Seattle.
The university's high placement in international rankings and its picturesque island campus sold her. While Victoria may not be a household name in the U.S., Gesten thinks it will be a net plus for employers once she explains where it is and what a good school it is.
"British Columbia has a good reputation for colleges," she notes. "And I went international. I went outside the box."
Will soaring prices put your child's college dreams out of financial reach? Not if the country takes these steps.