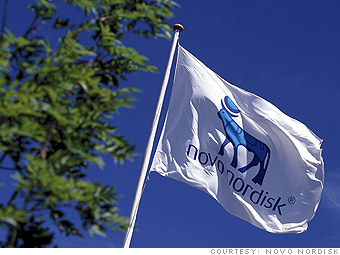 Average total pay: $112,939
For:
Diabetes Care Specialist III
The world's largest maker of insulin, Denmark-based Novo Nordisk provides its U.S. employees with world-class pay and benefits for helping save the lives of diabetes patients in 179 countries.
At the manufacturing facility in Clayton, N.C.,hourly workers are eligible for a 10% bonus each quarter. To inspire them, posters hang throughout the facility that show the running tally of how much they'd get "if the bonus were paid today."
The company also matches 50 cents on the dollar of employees' 401(k) contributions, with an average automatic contribution of 8% of an employee's income.
Top salespeople receive a five-day trip for two to destinations like Monte Carlo, Maui, or the Bahamas; those who earn big for five years straight get a $5,000 bonus, company car upgrade, and other perks. To mark a recent revenue milestone, the company's entire sales force was treated to a "training at sea" cruise in the Virgin Islands.
More galleries
Last updated January 26 2011: 2:26 PM ET