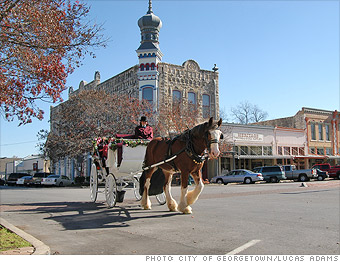 Population: 47,400
% over 50: 43%
Median home price: $121,000
Top state income tax: None
Cost of living index: 93
For retirees who want easy access to all the perks of a city but crave a smaller community with its own sense of place, head 26 miles north of Austin to Georgetown.
This historic town on the edge of Texas hill country gets kudos for its Victorian architecture, picturesque downtown, and plethora of walking and biking trails following the San Gabriel River and Lake Georgetown. Southwestern University, founded in 1840, recently cut the ribbon on the $11 million Prothro Center for Lifelong Learning; seniors can enroll in up to six classes a semester in Georgetown's Senior University program, which is headquartered there, for just $60. The city's recreation center also has an impressive lineup of classes and travel opportunities for retirees.
While restored Victorians near downtown start at $300,000, new single-level homes farther out start around $125,000. Adding to the appeal, there's no state income tax in Texas, and homeowners 65 and older receive an additional homestead exemption for school taxes and a portion of local taxes.
See complete data and interactive map for Georgetown