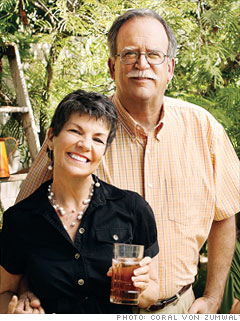 Name: Bob and Betty Lowry
Age: 62 and 57
Hometown: Scottsdale, Ariz.
For three decades, Bob Lowry consulted for small radio stations. Then media conglomerates began gobbling up his clients.
By 2001, Lowry and his wife Betty, a pre-school teacher, faced a tough choice: "I could reinvent myself or retire and make do with what we had."
To retire a decade earlier than planned, they needed to live on $45,000 a year, less than a third of their $150,000 income.
Ten years later, the Lowrys are pleasantly surprised by how satisfying retirement has turned out. They moved to a smaller house, take vacations every two years instead of annually, and cut out expenses like cable TV (they watch Hulu and Netflix instead).
But they still eat out and go to the theater. What they enjoy the most: spending time with kids and grandchildren, volunteering, and being involved in their church. "Our lives have never been fuller," says Bob, who blogs about retirement life at satisfyingretirement.com.