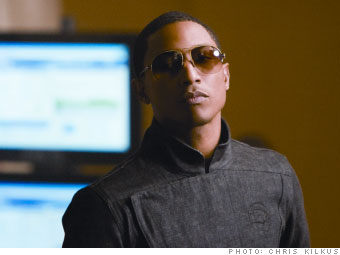 Companies: Return Textiles, BBC/Ice Cream apparel
The 38-year-old rapper, singer, record producer and composer launched two high-end sportswear lines in 2005, and now plans to incorporate organic fabric into his BBC/Ice Cream apparel line.
Last year, Williams joined entrepreneurs Tyson Toussant and Tim Coombs to become part owner of Return Textiles, a New York-based textile manufacturer that produces a technologically advanced yarn they call "bionic." The premium yarns and fabrics are derived from recycled plastic beverage bottles.
''Bionic Yarn is the fabric of the future,'' said Williams. ''It's incredibly soft and durable, and we are recycling millions of bottles at the same time we produce this product.''
In 2010, Return Textiles reportedly generated $1.3 million in sales and churned through 1.7 million plastic bottles. Williams ultimately hopes to see Bionic Yarn clothing sold at stores across the country.