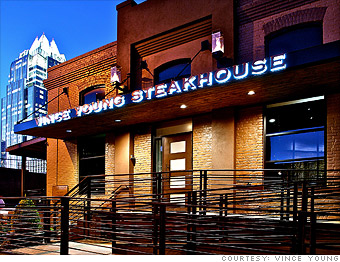 Headquarters: Austin, Texas
Website: Vinceyoungsteakhouse.com
Born and raised in Houston and later starring as quarterback at The University of Texas-Austin, Vince Young is a true Texan at heart -- with a love of all things meat.
In 2008, he launched Vince Young Foods, a line of smoked meats sold in Texas grocery stores. And on Nov. 6, 2010, he decided to take his carnivorous sensibilities to a high-end market, opening the Vince Young Steakhouse in Austin with longtime friends Phillip and Laura Brown.
The Texas capital certainly has no shortage of steakhouses, yet Young and his partners have managed to create a name for themselves in a relatively short amount of time. The Vince Young Steakhouse even snagged the top spot on Thedailymeal.com's list of the 10 Best Athlete-Owned Restaurants.
"We feature local, seasonal foods with a changing menu," said Phillip Brown. "We've been very well received and compared with the best in town."
One menu highlight is the grilled salmon served with sauteed baby bok choy, potato-celery root hash and grapefruit beurre blanc. The dish was handpicked by Young himself.