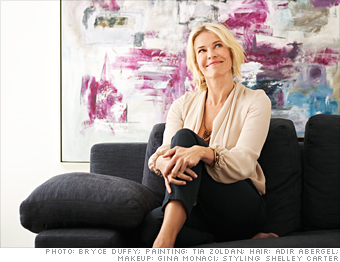 Name: Chelsea Handler
Age: 36
If you are a fan of comedy or a viewer of late-night talk shows, you're surely familiar with Chelsea Handler. The 36-year-old has seen viewership of Chelsea Lately, her talk show on Comcast's E! Network, quietly edge up, and in June her show beat rival Conan O'Brien's in the ratings.
Yes, Chelsea Handler, comedian and television personality, is a known quantity. But allow us to introduce you to Chelsea Handler, businesswoman. In 2009, Handler co-founded Borderline Amazing Productions with Tom Brunelle, the head writer of Handler's late-night show. Since then, the company has gone on to produce four shows -- Chelsea Lately, After Lately, Big Loud Lisa, and Are You There...Chelsea? on NBC.
Borderline Amazing is also developing a fifth show with That '70s Show creator Marc Brazill; a sort-of "Wonder Years about me because I've always been this way," says Handler. And, Handler's team recently sold a movie to The Weinstein Company, which Borderline Amazing will be producing.
Celebrities with production companies are as common as starlets with fluffy, teacup-sized dogs. But Handler, whose brand is undeniably the foundation of Borderline Amazing, is not only the face -- but also the strategic brain -- behind the company. "For the first 3 years, I was in every morning meeting," she tells Fortune. "I never missed anything because you want to get that flow going, you want everyone to know at what level you expect things to be turned in. When you're putting your product out there with your own name on it, you want it to be very Chelsea-specific. You really have to be involved in every aspect, in every edit."
Having control on the business side of things is extremely important. But, "power, obviously, can be a dangerous word," Handler warns. "It's about being really savvy, about making smart decisions, and about making original decisions." She uses her power within the company to promote those who would otherwise get looked over. "I really like to look at people who are underdogs. It's kind of nice to do that -- put people on TV that most people would be like `That's a face for radio.' I think that's the best part... We get to put people on that normally wouldn't have that opportunity."
Perhaps Handler's inclination toward underdogs stems from her own relationship with the term. Growing up in Livingston, N.J., Handler, the youngest of six children, says she had a hard time fitting in at school because "everyone's family was much more together than mine." And, she wasn't always a powerhouse comedian. Twelve years ago, Handler performed at the Montreal Comedy Festival. "I bombed horribly," she recalls. "I was supposed to be this new face of comedy, this new it girl. Probably one of the worst nights of my life. It was a room full of industry, so it was really embarrassing on every level. It took a long time to get past that."
But those types of moments gave Handler tough skin and pushed her to work harder. "It's just a lesson in humility. You know, I don't know what the point of that is, but it's just the same old cliché that you have to fail to succeed. You wouldn't be a strong performer if you didn't know what it was like to be a weak performer."
Always looking forward, Handler is leading Borderline Amazing as the company renegotiates her deal with Comcast, molding it into a multiplatform contract. "I'm developing a show; a more serious, mindful program. I have an opportunity to bring my viewers to the next level; as I'm growing up, I want to take everyone with me." She also has her own publishing imprint, Borderline Amazing/A Chelsea Handler Book.
That power -- to be taken seriously by these network big wigs -- is extremely important to Handler. But it doesn't mean that she thrives on being recognized for her showbiz gravitas. When asked about Fortune's Most Powerful Women in Business list, Handler responded: "Being on any list where people are recognizing your impact on your specialty is always great. But I don't think you can go through life or your career with that sole intent. It's not like I get some big hard-on from these lists."