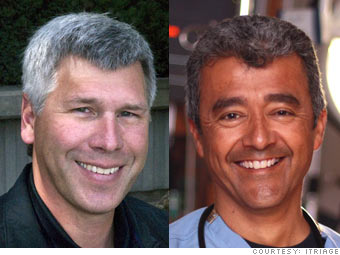 ITriage is a free app for iOS and Android users that answers two common medical questions: "What is wrong with me?" and "Where should I go for treatment?" The Denver-based company behind it launched as Healthagen in 2009 (but recently changed its name to iTriage). In late December, Aetna acquired the company for an undisclosed amount, as part of its customer retention and acquisition strategy.
ITriage was started with $20,000 by two ER doctors from Denver. Peter Hudson, the company's CEO and a serial entrepreneur, and his cofounder Wayne Guerra estimate that they've seen 50,000 patients between them over the course of 20 years. Hudson says those patients continually struggled "to understand what information is needed to make an intelligent decision about what could be causing their problem, where to go and what kind of care is most appropriate."
ITriage connects symptoms to potential conditions and offers real-time features like wait times at nearby emergency rooms and urgent care clinics. Although the app is free to consumers, facilities can purchase a "premiere" annual listing with enhanced features like pre-registration or appointment scheduling through the app. Users can also look up medications and see potential side effects, find information about diseases, and investigate the details of various medical procedures.
ITriage has been downloaded more than 3 million times so far, Hudson says.