We put customer service to the test at companies from Zappos to Delta to Bank of America, asking for help over Twitter, on the phone, and on the web. The results were surprising.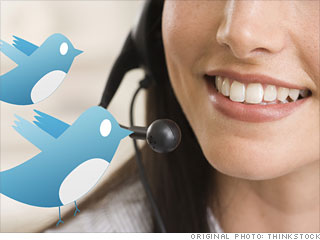 Twitter has been hailed as the solution to all kinds of things. Want to stoke mass protests? Tweet it. Want to gather hundreds of strangers into a single space? Have a Tweet-up. Want to get fast customer service? Plenty of companies promise to solve your problem in 140 characters or less.
But a sampling of customer service channels conducted by Fortune.com suggests that despite some breathless media reports of a Twitter-driven customer support revolution, we aren't there quite yet.
Not all firms interact on social media -- not even ones that are known for being tech-savvy and having good customer service. Amazon won't use them to respond to customer queries, and Apple reliably points users to its Genius Bar for help. Of the companies that do respond via Twitter, many of them still ask that official customer service questions be directed through more formal channels.
But which is better? To find out, Fortune concocted eight customer service gripes (some real, some imagined) and put them to the test at companies that have promoted Twitter for customer questions. We compared responses through tweets, over the phone, and online. The results, though admittedly unscientific, were telling. In most cases the old-fashioned, often infuriating, customer service hotline was actually the fastest and most thorough means of solving a problem.
The reality is that only the simplest questions can be answered in 140-character bursts. And even then, you're not guaranteed to get a response. Click through to see the results of Fortune's customer service saga.
NEXT: Zappos
Last updated February 11 2011: 3:21 PM ET