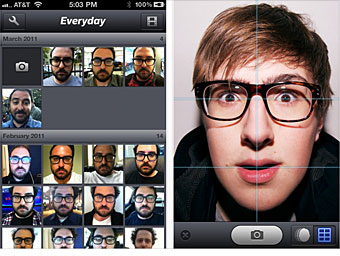 You're so vain, you probably think this app is about you. Well, actually, it is. The $1.99 Everyday iPhone app prompts you to take photos of yourself once a day, documenting your visual history over time. Launched in March, the app presents a grid for you to align your features against to ensure that every picture is taken in the same position. Stitching together the snapshots, you can create a video montage of your face over time.
"I love the idea of an everyday photo project, and this seemed like the perfect fit," says creator William Wilkinson. The idea hit him when the iPhone 4 launched, featuring a front-facing camera. Wilkinson, a graphic designer, also enlisted photographer Noah Kalina, who previously created a popular YouTube video using a similar concept.
Everyday has around 600,000 users. Wilkinson hopes to expand it to the iPad soon.