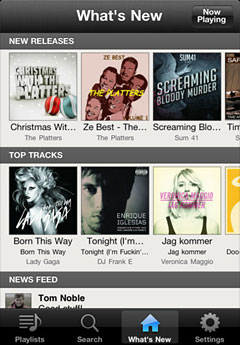 Music: Spotify
Launched in 2008 across the pond, the simple, legal "all-you-can-eat" music service made waves in parts of Europe with an innovative "freemium" model that lets users listen to over 15 million tracks for free. "The essential feeling we wanted to create was to have all of the world's music available at your fingertips," Spotify CEO Daniel Ek told Fortune recently.
To that end, Spotify is wicked fast and snappier than Apple's iTunes, despite the fact that all its music resides in the cloud. Users don't have to pay a cent upfront to tune in, but the "free" tier is ad supported and after six months, users will be asked to pony up for one of Spotify's premium plans that scale up to $10 a month. Those plans allows users to store songs on mobile devices.
Ek believes that presenting as low a barrier of entry as possible and coupling it with a sharp user experience is key to reeling in users. To date, it has more than 10 million users, a reported 2 million of whom pay. The company expects its U.S. launch in July to pay off in a big way by netting 50 million Americans by the end of its first year of stateside operations. Ambitious? Sure. But with Facebook's recently-launched Spotify integration and Silicon Valley's blessing, anything's possible.