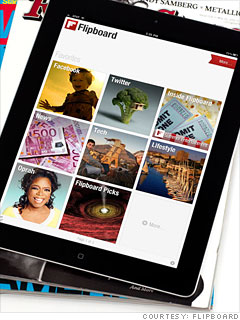 News: Flipboard
It's no coincidence that over the last year, the market has been flooded by a number of tools gunning to become your go-to for curated web content, from AOL Editions and Zite to Google's rumored upcoming offering, Propeller.
A lot of that has to do with Flipboard, the gorgeous free iPad reading app founded by Mike McCue. "One of the biggest challenges is how do you make that content more easily discoverable, easily consumable, easily digestible," McCue told Fortune earlier this year. Flipboard's solution? Present your favorite content from web sites, blogs, Facebook and Twitter, and in a digital magazine-like format you swipe or "flip" through.
While it's still early, Flipboard is growing fast. Since its debut at Fortune Brainstorm Tech last year, it's been downloaded more than 3.5 million times and can be found on nearly one in every 10 iPads. Those users make some 550 million flips happen every month. In fact, Flipboard has become so buzz-worthy, it's become the standard against which all other curation apps are often compared to, which is perhaps the best compliment of all.