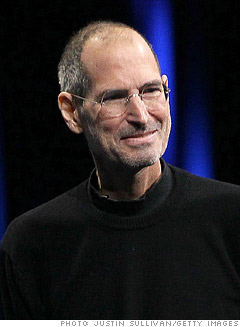 Company: Apple
Bonus: None
Stock and options: None
From 1997 until his death, Steve Jobs took home just $1 a year in salary, and most years he collected no bonus. Just $1.
That is, except for 2001, when the company came through with a whopper of an executive bonus: It spent $90 million to buy Jobs a Gulfstream V airplane. Since then, Apple had been reimbursing Jobs' air travel expenses, which totalled $248,000 last year.
Jobs could afford to skip the salary payments: Forbes recently estimated his net worth at $7 billion. Most of that wealth came from the Walt Disney Co., not Apple. Jobs became Disney's largest shareholder in 2006 when Disney bought Pixar.