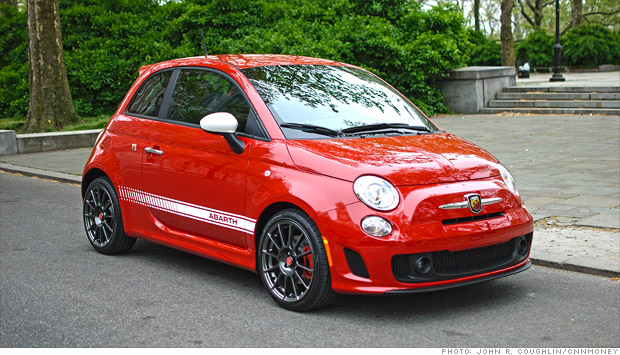 Price: $22,000
Engine: 1.4-liter turbocharged four cylinder
Horsepower: 160
Fuel economy: 28 City / 34 HWY
Some folks had a bit of an issue when I included the Fiat 500 Abarth in a gallery of "Wicked fast" cars.
I invite those people to get in this car, put it in sport mode and mash the gas pedal. Officially speaking, Chrysler Group spokespeople put the Abarth's zero-to-60 time at a little over seven seconds which, while it may be kind of fast, doesn't really sound wicked. At least on paper.
Inside the Abarth 500, it sounds -- and feels -- plenty wicked. Part of the reason is the tiny car's startlingly vicious exhaust growl. (Who needs a muffler when you can save 12 pounds by getting rid of it, right?)
Another part is the car's stubby hood, which means the road coming at you is really coming right straight at you with nothing but the windshield in the way.
Beyond that, Chrysler's "official" zero-to-60 time is probably on the conservative side. Take it from me, the Abarth 500 may not be perfect, but it absolutely qualifies as wicked.