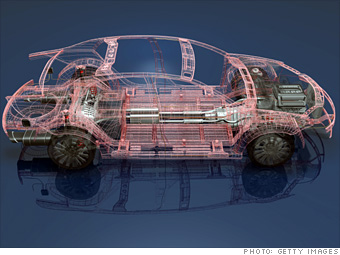 The global auto analyst team at Morgan Stanley has done some crystal ball gazing and put together a number of scenarios for how the auto industry is going to look in 2022. Get ready for some surprises.
The approach was strictly quantitative. The Morgan team ranked automakers on four criteria: technology, geographic footprint, strategic positioning, and financial strength. Then it plotted the rankings onto four scenarios it believes will determine the future of auto stocks 10 years hence. It is clever stuff that I first read about it in Neil Winton's Detroit News blog.
In auto terms, 2022 is less than two product cycles and one powertrain generation away. Cars being developed today will still be on sale. Conventional wisdom about winners and losers may be wrong. VW and BMW score highly in most of Morgan's scenarios, despite the disarray in their home markets. China still won't be ready to follow Japan and Korea by making a big push into the U.S. market. And General Motors outpoints Ford in all four scenarios because of its strong presence in China and production of hybrid vehicles.

By Alex Taylor III, senior editor-at-large
@FortuneMagazine
- Last updated July 02 2012: 7:56 AM ET